Installation
The installation process looks like this:
Turn off water main and circuit breaker for the water heater

Drain a few gallons so the water level drops below T&P port

Remove T&P valve and drain pipe

Insert Aquanta sensor into the T&P port, and re-install the T&P valve

Install the Aquanta controller and other sensors

Pair Aquanta with WiFi and complete online setup. You now have a smart water heater!
Can I – Should I – Self-Install?
Aquanta can be installed by a "handy DIYer," meaning that if you are comfortable replacing a faucet, putting in Aquanta should be a snap. No specialized plumbing knowledge, certification or equipment is needed or pipe cutting of your water lines, although in some cases you may need to de-solder the drain pipe on the T&P valve.
Purchasers are responsible for ensuring that Aquanta and its installation are compliant with all relevant local codes and regulation.
If you are planning to self-install your Aquanta, please review the Installation video to make sure you are comfortable with the process before proceeding.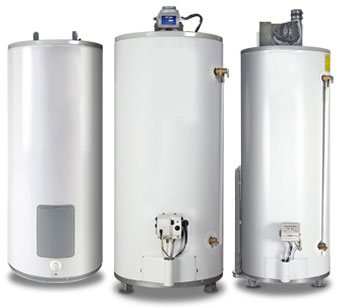 Will Aquanta Work in My Home?
Aquanta is designed for use in tank storage-style water heaters – like those found everywhere in the US, Canada and in many parts of the world.
It is designed for tanks holding 120 gallons and less, and will not work with heat pump, boiler-fed or tankless (also called "on-demand") water heaters or "combi" systems.
We highly recommend against installing Aquanta in water heaters over 15 years of age or that are otherwise showing signs of nearing failure.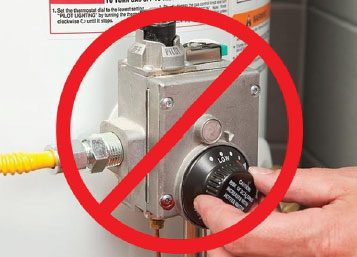 Aquanta Does Not Control Old-Style Gas Water Heater Controls
Important: Aquanta can control electric water heaters as well as those gas water heaters with electronic gas control valve (which represent the majority of the gas water heater installed base). If your gas tank has an old-style, mechanical control valve (like left picture), Aquanta will be able to measure the energy and provide most of its reporting features, but cannot control the heating element.
Example T&P Port and Valve - Where the Enthalpy Sensor Is Inserted
Your tank needs to have a T&P valve fitted in a ¾" port (which is near-universal in US tanks; see left picture), into which Aquanta's sensor gets installed. The T&P valve port can either be on the top or the side of the tank.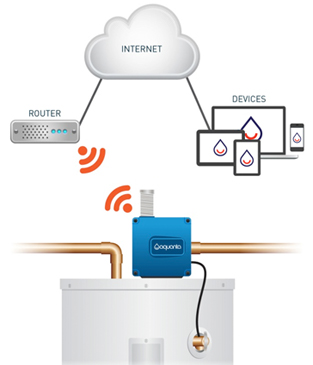 Aquanta System Configuration
Aquanta is controlled via Wi-Fi, so you need a home Wi-Fi router for it to connect to its cloud-based control system and user interface. While you don't need to have a home networking hub for Aquanta to work, we plan to integrate into all of the major platforms.